Start With the Basics
General Questions
Is Toxic Skull products available in all countries?
We don't ship to some countries because of legal restrictions or shipping carrier limitations. 
The list of restricted countries may change depending on world events, but for now, we don't ship to the following destinations: 
Crimea, Luhansk, and Donetsk regions in Ukraine
Russia
Belarus
Ecuador
Cuba
Iran
Syria
North Korea 
Afghanistan
Aruba
Bhutan
Cayman Islands
Chad
Laos
Libya
Mongolia
Papua New Guinea
Samoa
Solomon Islands
South Sudan
Timor-Leste
Turkmenistan
Yemen
The list of countries where our shipping carriers don't offer international shipping may change. You can always review the up-to-date list on the USPS homepage.
Are all products in an order shipped together?
Some of our products come individually packaged to protect their shape and provide extra durability. Here are the products we may ship separately:
hats and caps
jewelry
posters
canvas
blankets
In some cases, we may fulfill products from the same order in different facilities, which means they'll be shipped separately.
What's the estimated delivery time, and how is it calculated?
Toxicskull's estimated delivery time (EDT) is our delivery time prediction. We follow a simple equation to calculate EDT:
estimated fulfillment  + estimated shipping = estimated delivery time
Our average order fulfillment takes 2–5 business days for all production techniques.
We consider the current order volume and our fulfillment capacity when calculating our estimated fulfillment time. Similarly, we calculate estimated shipping time according to our historical shipping data for deliveries to your area or selling region.
But the estimated delivery time is just an estimate, not a guarantee. Here are some of the reasons why an order might arrive past its EDT:
Issues with print or embroidery files
Products being out of stock
Shipping related delays like failed delivery attempts, service disruptions, or harsh weather conditions
Nonetheless, we work hard to meet our delivery estimates with each order. 
If you're ever in a situation where the EDT has passed, please wait a bit longer. Then, once 5 business days have passed, get in touch with us via email or chat, and we'll take a look.
Do Toxicskull's product prices include tax?
No, the prices you see on Toxicskull's product pages don't include applicable tax or shipping. The final price you pay will be different from the listed price.
Why am I being charged tax?
We are legally required to charge you the following types of taxes:
Sales tax on some orders going to the US
VAT (value-added tax) on EU-bound orders
VAT (value-added tax) on UK-bound orders
Norway VAT on all orders going to Norway
Swiss VAT on all orders going to Switzerland and Liechtenstein
GST (goods and services tax) to all orders going to Australia and New Zealand
GST/HST for orders fulfilled in Ontario, Canada
Consumption tax on all domestic orders fulfilled in Japan
Who pays the customs duties & taxes?
Shipments outside of the USA may incur customs fees depending on the destination country. The fee may vary depending on your order value, country limits, and other factors based on the product itself. Your end customer is responsible for these fees. Any fees are paid to appropriate customs agency by the end customer.
How can I track my order?
Once your order is ready to go, we hand it over to the carrier and send you a shipping confirmation email with a tracking number. You can click on that number to see the latest updates on your shipment's location via our tracking page.
Or you can go to the Orders section of your Dashboard (My Account), open a fulfilled order, and click See tracking to follow orders using our tracking page.
When an order is out for delivery, updates on its status will depend on the carrier service. If you encounter any issues, you can contact us at contact@toxicskull.com, and we'll do our best to help you.
What's the order tracking page?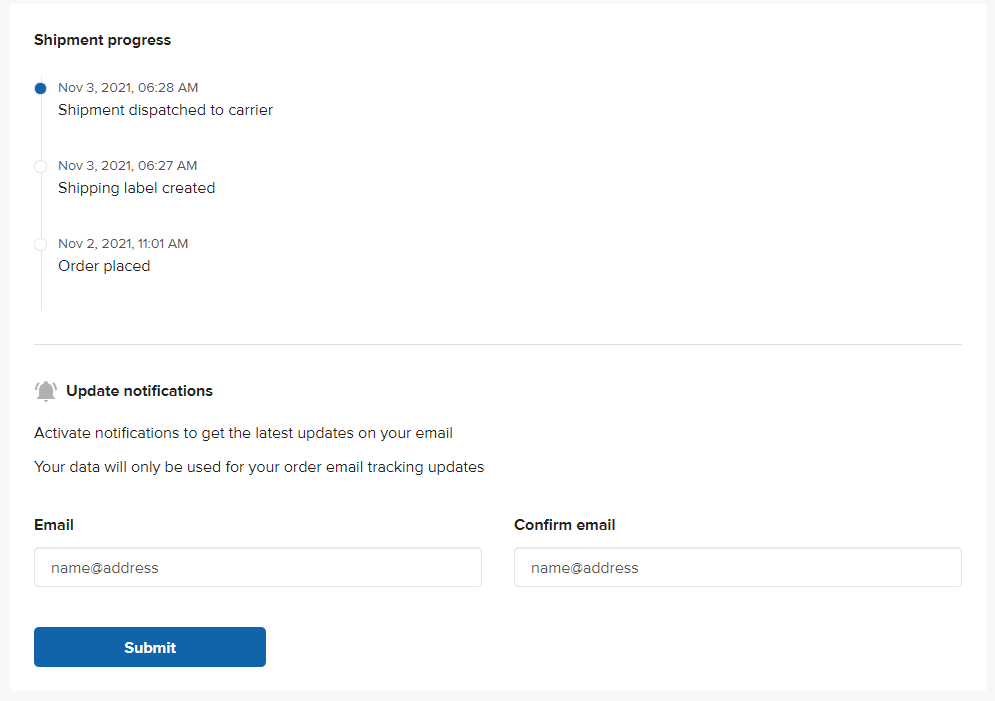 How do I report a problem with my order?
Where are Returns sent?
The return address of your store is by default Toxicskull's, and is based on where your package was fulfilled, which again depends on the country you ordered from:
Packages sent out from our US and Mexico fulfillment centers are returned to our Charlotte facility: 11201 Ed Brown Rd, Charlotte, North Carolina, 28273. 
Packages sent out from our facility in Canada are returned to: Unit 3, 3500 Laird Rd, Mississauga, ON L5L 5Y4 Canada.
Packages sent out from our Latvian facilities are automatically returned to Plienciema 5, Marupe, Marupes novads, LV-2167, Latvia.
Packages sent out from our Spanish facility are automatically returned to Travessía Prat de la Riba, 91-95, 08849 Sant Climent de Llobregat, Barcelona, Spain.
Packages sent out from our UK facility are automatically returned to Antar 2, 1 Headway Road, Wolverhampton, WV10 6PZ.
Packages fulfilled by our partner facilities in Australia are returned to: 40 Tanimbla Street, Kedron, Queensland 4031, Australia (apparel orders); 338 Albert St, Brunswick VIC 3056, Australia (non-apparel orders, except for phone cases); 6 Axis Crescent, Dandenong South VIC 3175, Australia (phone cases).
Packages fulfilled by our partner facilities in Japan are returned to: Komiyaji 817-3, Shinwamachi, Amakusa, Kumamoto prefecture, 863-0101 Japan (apparel orders); Ibe 15, Kunogi, Nakanoto, Kashima, Ishikawa prefecture, Japan 929-1801 (non-apparel orders).
Packages fulfilled by our partner facility in Brazil are returned to: Rodovia Santos Dumont, 4791 (Antigo KM 3,5), Armazém 111, Galpão 02, Empreendimento Caxias Park. Parque Paulista. CEP 25251-460. Duque de Caxias – RJ, Brasil.
Once a return package reaches our facility, we'll notify you via email. Based on the reason for the return, we'll decide what the next steps should be. Check out our return policy for more info.
What if an order gets lost in the mail?
For packages lost in transit, all claims must be submitted no later than 30 days after the estimated delivery date. But no worries! We'll cover the costs of reprinting and shipping a replacement order for you. It would also be good idea to double-check with the shipping carrier to try locating the lost order before you contact us. They might have the answer.
We may ask for your help before doing that, like confirming if the shipping address was correct. 
Keep in mind that if tracking information states an order was delivered but you believe you haven't received it, we won't take responsibility and reship that order. We suggest you contact the courier to make a lost in transit claim.
You can check out our return policy for up-to-date details about reshipments.
My order shows it is being returned to sender, what now?
There are a few reasons an order can be returned to sender but most often it is due to an undeliverable address. Other instances include the package being unclaimed at customs or refused/returned by the customer. You will receive notice once the order arrives back to our facility.
Please contact us  with an updated address if you wish to have the product reshipped. New shipping charges will be applied for orders that have been unclaimed at customs, returned by customer, or had an incorrect address originally provided.
What if the product is damaged in the mail?
If something arrives damaged, send a photo of the damaged goods and package to our contact email, then we'll gladly send a replacement at no cost to you.
How are returns handled differently when comparing quality concerns or customers changing their minds?
Any returns or problems that occur because of an error on our part will be handled at our expense.
If you would like to exchange or return a product without any defect or due to a wrong size being ordered, this would be handled at your (the customer) expense by placing a new order.
Unclaimed returns get donated to charity after 30 days.
How long do I have to submit a claim for a return/exchange?
Any claims for misprinted/damaged/defective items must be submitted within 30 days after the product is received. For packages lost in transit, all claims must be submitted no more than 30 days after the estimated delivery date. 
What if the recipient's address was wrong?
If the recipient's address was wrong, then you (the customer) are held responsible. Usually, the package is sent back to the return address. 
If the package was not returned to sender, then you would have to process a new order to replace the original.
What happens if a package wasn't delivered, but the tracking states that it was?
If the package was marked as delivered by the carrier, but the customer reports they have yet to receive it, Toxicskull won't cover the cost of reshipping or refunding the order.
There may be cases where the delivery was made, but the package was left in an unexpected location at the customer's address. Customers should reach out to the carrier and inquire if any additional details were left by the delivery person. For example: "Left under the table on the back porch."
If a customer is unable to locate the package, they will have to contact the courier and file a lost package claim them self. They will also need to place a new manual order to have it reshipped. We're not yet able to assist with filing claims with shipping carriers but hope to do so in the future!